Custom Application
Innovative Custom Applications Driving Limitless Possibilities
Discover the incredible impact of custom web applications on your business, empowering you to boost efficiency, enhance productivity, and achieve targets.
Why Choose Us?
Custom Web Applications: For Your Needs, Powered by Our Expertise
What Do We Offer In Custom Web Applications?
Tailored Solutions for Your Unique Custom Application Needs
Web Development Solutions
From front-end design to back-end development, our tailored web development solutions deliver visually stunning websites, ensure seamless functionality & accessibility, and drive customer engagement.
Mobile Application Development Solutions
Discover the true potential of mobile technology with our custom mobile application development solutions. We create user-friendly apps packed with features, ensuring your audience stays captivated and delighted.
Business Analytics Services
Get valuable insights from your data with our business analytics services. We go beyond just numbers, offering you advanced data analysis, visualizations, and comprehensive reports to drive informed decision-making in business.
Product Engineering Services
Our tailored product engineering services encompass the entire product development lifecycle, from conceptualization to testing & deployment. We focus on innovation, scalability, & usability to create high-quality, market-ready products.
Corporate Application Development
Enhance your business operations with our corporate web application development services, which are meticulously crafted to align with your business goals, providing scalable solutions to drive your business forward.
Dedicated Development Team
We provide a dedicated group of talented professionals who exclusively focus on your projects, offering the flexibility and scalability you need in your business. Collaborate with us to achieve optimal results and timely delivery.
Why Do You Need Custom Web Applications?
Stay Agile and Competitive with Custom Web Application Development
When off-the-shelf solutions fall short, custom application development services step in to bridge the gap, providing businesses with tailored tools that revolutionize their operations and drive growth.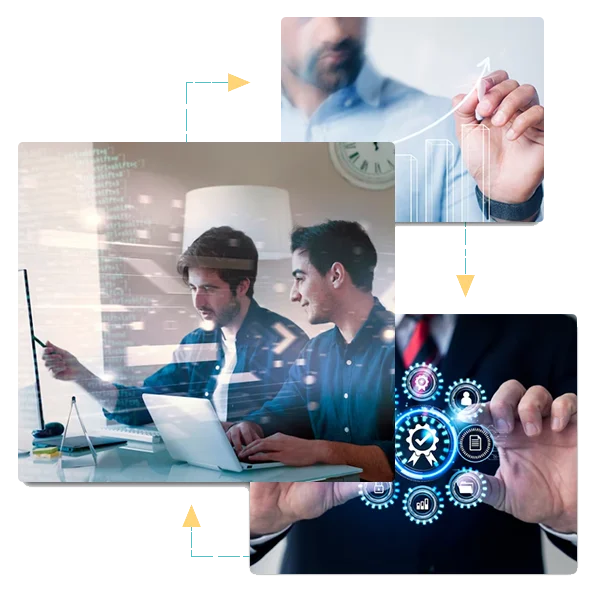 Scalability

Custom web applications provide the flexibility to scale seamlessly, ensuring that your application solution remains in sync with your evolving business requirements and future aspirations.

Enhanced Productivity

Tailored application solutions are designed to simplify complex tasks, offer intuitive interfaces, and seamlessly integrate with your existing systems.

Competitive Advantage

With the unique features and functionalities of our custom software, you can differentiate your business, stand out from the crowd and offer a superior experience to your customers.

Cost Efficiency

Investing in custom web applications eliminates the need for multiple off-the-shelf solutions, reducing overall costs associated with inefficiencies and licensing fees.
Our Process
From Vision To Reality: Our Step-by-Step Process To Create Custom Applications
Take the leap into a transformative journey as we bring you the step-by-step process to develop custom web applications. From the initial concept to the final deployment, we'll unravel the intricacies involved in creating custom applications that perfectly align with your unique business needs.
Industries We Serve
Bridging the Gap in Multiple Industry Sectors
We showcase our expertise in bridging the gap between technology and diverse industry sectors. Our experts build industry-specific applications that cater to the unique needs of each business sector.
Partnering for Business Success -
Let Our Experts

Discover the Right Solutions!

Let's get started on your digital transformation journey. Submit your inquiry today, and our experts will be in touch with you soon.