Transportation and Logistics
Drive Your Business Forward with our Robust Logistics & Transportation Solutions
Our robust and scalable logistics and transportation services help your business deliver best-in-class services to its clients. We deploy customized digital solutions that simplify logistics applications and help businesses reach full-throttle.
What Do We Offer?
Our Innovative Transportation and Logistics Development Solution
Our team offers a variety of transportation and logistics solutions that helps businesses in multiple ways. Whether it is transportation and warehouse management or tracking and fleet management, we cover it all.
Transportation Management System
Our TMS applications help businesses plan the transportation of goods, including easy routing, multiple carrier management, tracking, etc.
Warehouse Management System
Our WMS applications are extremely efficient in managing the flow of goods in the warehouse, managing inventory, and tracking.
Supply Chain Management System
From sourcing raw materials to delivering final products, our SCM applications help in managing and optimizing the complete supply chain process.
Fleet Management System
The FMS applications help industries to manage their fleet of vehicles such as trucks, SUVs, and carriers. It also includes drive management, vehicle tracking & maintenance.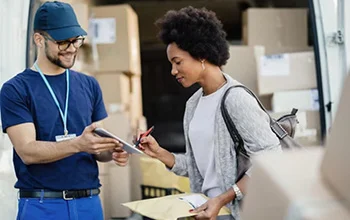 Delivery Management System
Our DM applications help companies manage the last-mile delivery of goods. These show the easiest routes to delivery, traffic-prone areas & delivery tracking.
Tracking and Visibility System
Our tracking applications help in the real-time tracking of goods and provide timely updates of the goods, allowing businesses to efficiently manage & optimize their operations.
Our Highlighted Features
End-to-End Excellence With Our Integrated Transport and Logistics Solutions
We use best-in-class technology to deliver customized, innovative, and scalable logistic and transport solutions across the globe. Whether you run a startup, small business or an enterprise, our tailored solutions help to simplify your complex operations, reach new clients and grow your business.
Route Optimization & Scheduling
Our transport and logistics applications help Identify the easiest & fastest routes in high-traffic areas & schedule on-time deliveries even in bad weather conditions.
Supply Chain Visibility
Our applications are packed with features that provide end-to-end transparency in supply chain management. Here, stakeholders can monitor inventory, track shipments & access KPIs.

Managing Multiple Carriers
Our logistics applications seamlessly work for multiple carriers to coordinate and manage with each other. This makes the delivery of the shipments on-time & hassle-free.
Analytics and Reporting
We also provide applications that analyze data from various operations & share valuable insights such as identifying performance, need for optimization & data-driven decisions.
Why Choose Us?
Experience Our Commitment to Exceptional Transportation Services
We help you manage your transportation and logistics business with world-class application solutions. With route optimization, real-time tracking, inventory management, and streamlined operations, we enhance brand reputation and boost customer satisfaction.
Scalability

User-Friendly Interface

Data Accuracy and Integrity

Security Features

Automated Notifications & Alerts

Timely Updates

24*7 Support and Assistance
Delivering Excellence, Every Mile: Experience Our Logistics & Transportation Solutions
From inventory management to warehouse optimization, our solutions are designed to focus on optimizing routes, on-time deliveries, and hassle-free operations.
Brand Marketing
Our Digital Solutions To Market Your Logistics Business
We provide you with customized digital solutions that help you upscale your business and keep you ahead of your competitors in the market. Whether you provide trucking & haulage services, warehousing, freight brokering, or e-commerce logistics, our application tools aptly fit your needs & elevate your online brand presence and reach.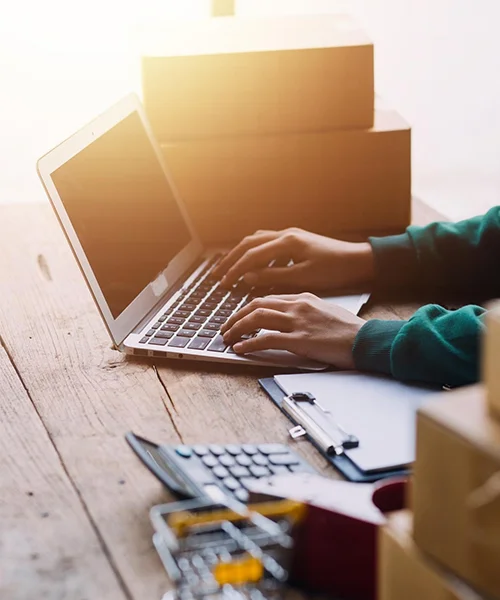 Logistics SEO
Our SEO experts help your businesses have a strong online presence & rank higher on search engine result pages. This enhances your credibility & attracts more website traffic.
Logistics Content Marketing
We deliver valuable content that stays on the top of the minds of the clients & builds audience engagement. Such content generates leads, & fosters brand loyalty.
Logistics Social Media Marketing
Our digital marketers keep your business active and seen on popular social media platforms. This helps your business network better & find more interested clients.
Logistics PPC Advertising
We run different PPC Ads, such as Google Ad, Amazon Ad, FaceBook Ad, etc., to bring your business into the spotlight. You can also run Ads in formats like display Ad, Video Ad, & Search Ad.
Logistics Email Marketing
We run all kinds of email marketing campaigns to build engagement with your clients, such as newsletters, promotional emails, or follow-up emails, for a better customer experience.
Logistics Lead Generation
Our lead generation techniques help your business make new connections, nurture prospects and convert prospects into paying customers.
Partnering for Business Success -
Let Our Experts

Discover the Right Solutions!

Let's get started on your digital transformation journey. Submit your inquiry today, and our experts will be in touch with you soon.